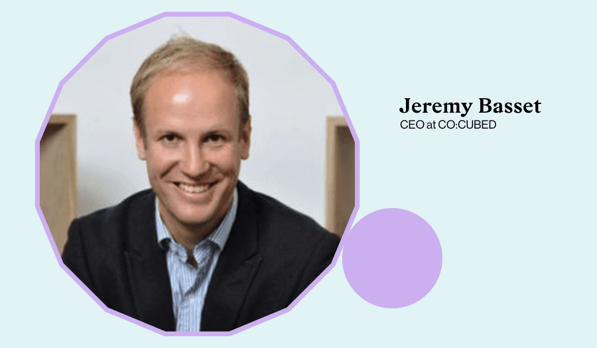 Earlier this year Bamboo Crowd met with Jeremy Basset, Unilever's former Head of Innovation who initiated and scaled The Foundry – Unilever's global platform to connect with start-ups, to talk about the connection between start-ups and large corporates and what the future looks like for corporate innovation.
It is no secret that many corporates have been taking big steps, building multiple capabilities within their organisations to facilitate working with start-ups across a range of sectors. These innovation hubs give start-ups the ability to scale and cultivate relationships with global corporates affording unique opportunity and mentoring.
Partnering an international corporate with a small, local start-up might initially seem like an unlikely collaboration however, they have many qualities to exchange and it is now common place. Start-ups work quickly and take risks, but often don't have the expertise or capabilities to scale globally. Large corporates are more risk averse and are steeped in bureaucracy and structures that slow down their ability to implement new ideas and methods. They benefit from this partnership that allows both parties to expand into markets they would struggle to achieve alone; this helps to ensure they maintain a competitive edge.
As the marketer who led the Unilever Foundry, Jeremy and his team realised that "the future had been made but not scaled". Innovation is paramount to the future of Unilever, but the best way to utilise the developments in technology and future thinking was to collaborate with start-ups rather than straight investment. Unilever have now created a global platform that partners with start-ups to accelerate growth and solve business challenges. This has driven innovation in an agile and flexible way and given both parties a beneficial outcome.
For example, Omo, one of Unilever's detergent brands, partnered with aLavaderia, a Brazilian laundry and dry-cleaning company. They had an app subscription service to deliver fresh laundry to people's doorstep; the partnership saw them using Omo products to wash and dry clean. By working with Unilever, they were able to use their knowledge and experience to mentor and help aLavaderia tackle challenges that they faced. Furthermore, The Foundry were able to address the key challenges that occur through the partnerships that are made between small start-ups and large internationals. This considers the developments in customer-experiences:
"You see increasingly fragmented and incredibly complex consumer journeys, so the brand of the future needs to be able to adapt to that world by having a wide range of partners you collaborate with, instead of one big agency partner."

Jeremy at Media360 conference in Brighton
The last decade has seen the pace of change accelerate, with large corporations realising that they need to tackle innovation from a new angle; it is believed that start-ups can play a key role in driving inspiration and meaningful change. However, these collaborations do not come without their own teething problems, with many start-ups struggling with cultural potholes around the timeliness, or lack thereof, for decision-making and sense of urgency. There is a clear appetite for more innovation programmes with many companies creating their own innovation labs to drive new strategic approaches that are better integrated into the core of the business.
These collaborations are no longer considered as an add on to business, they are key to driving strategic change with start-ups being recognised as a source for innovation, fuelling growth and helping to solve big business challenges. To bridge the gap between these start-ups and corporates, many new companies have emerged to bridge the start-up to the corporate innovation lab. They build start-up ecosystems, accelerators and incubators, and deliver innovation programmes that give start-ups an initial injection to make them a viable partner for a corporate. On the other side of the table, there is also the task of getting the corporate ready for the partnership.
Jeremy, is now founder of CO:CUBED, a boutique innovation agency which helps FTSE100 corprates to optimise and scale their startup engagements. CO:CUBED brings together a global network of over 500,000 startups, and their services including everything from helping corporates craft their collaborative innovation strategies, through to startup match-making and running corporate accelerator programmes. Championing the spirit of entrepreneurship, it's clear that CO:CUBED is focused on turning innovation 'theatre' into impactful business results. The key to survival for corporate innovation processes:
"on culture play the long game, on financial results play the short game."
Jeremy feels that, for the future of corporates, it is vital for them to become more outward focused to allow for this type of innovation, with a need to "change their culture, processes and network to become more open"; this collaborative innovation will allow them to leverage growth.
What is the future for large organisations? Jeremy believes the corporations of the future will actually be a network of complimentary startups, pulled together to deliver a vision and output that neither party could have previously anticipated. It is clear that to drive successful innovation within corporations that collaborating with start-ups is a now clear and obvious step forward. There has never been a more important time for corporates to engage with the disruptors, presenting a very exciting time for true coloration and partnership.