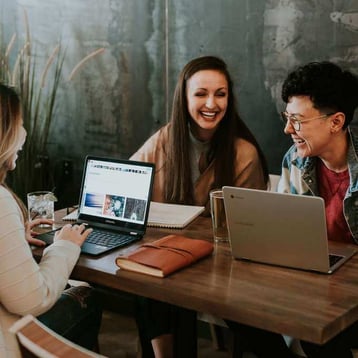 At this point, we know that diversity is good and that it brings real and measurable benefit to a business. Diversity in staff composition leads to smarter teams who ask better questions, it enables greater scrutiny and improved decision making, and it unlocks more intellectual potential. Adobe just released a study called Creativity's Diversity Disconnect that shows 82% of creatives believe their most successful group projects were produced by a diverse team. Further, the head of technology, strategy, and design for a major financial company links a diverse team to a better end product. "We want to get there together with diverse teams. The way we build products is the way that we will connect with customers, and we want … all of our customers to feel connected to our products, not just one segment of the community."
So, it's not surprising that many companies have instituted diversity policies or set diversity goals. Accenture, for example, has a goal to achieve a gender balanced workforce by 2025.
But as far back as a decade ago, a consultant asked, has anything really shifted? Her view was that diversity had more to do with intent than it does with practice. "In other words," she asked, "what do we really want to accomplish?"
Enter the concept of inclusion. If diversity is headcount and staff composition, inclusion is a seat at the head table. "A focus on diversity doesn't necessarily mean that diverse voices are contributing to the conversation," said Marquise Stillwell, founder and principal of Openbox, a design and innovation studio. "If women and diverse voices aren't part of the leadership model — there will never be a true ownership of how choices affect actual people and paradigms will never shift."
Today, the challenge has moved past hiring a more diverse workforce to ask, how do we build an inclusive culture to ensure diversity in our top leadership positions? The innovation and consulting industry might just be the perfect group to help begin to answer this complex question.
The Inclusion Factor
Diverse talent brings tremendous capabilities at the decision-making level of a company. Elina Hedman is the founder of
Diverse talent brings tremendous capabilities at the decision-making level of a company. Elina Hedman is the founder of Connect Mentors, an online mentorship space backed by insurance companies Brit and Canopius. She says that, "A diverse leadership team is essential to model the company's commitment to inclusion and boost engagement … [and] can supercharge innovation and ensure you don't go stale."
Let's consider female leadership as an example:
only 2% of women-led businesses hit the $1 million revenue mark and that only 3% of women-led businesses receive funding

Carolyn Rush, director of strategy for Worn
Carolyn Rush is the director of strategy for Worn, a creative agency that empowers and advocates for women. "There's a deeper, methodical, attention-to-detail strength that exists with female founders," Rush said. Women in Innovation (WIN) is a professional organization that empowers and inspires women in innovation to be disruptive leaders and change-makers in their industry. The WIN team said, "we believe that traditionally 'feminine' qualities — such as collaboration, empathy, inclusion, and belonging — are crucial when innovating."
At the same time, numbers suggest that companies struggle to leverage these critical traits at the leadership level. Rush shared "abysmal" data showing that only 2% of women-led businesses hit the $1 million revenue mark and that only 3% of women-led businesses receive funding. WIN's analysis is also staggering: 79% of the innovation firms participating in WIN are run by men, about 65% of senior leadership is male, and only five of the top 50 business books on Amazon are written by women (study conducted by WIN leadership in December 2017).
The Unique Role of the Innovation and Consulting Industry
Building a more inclusive culture within a business is challenging and requires a commitment at the executive level. To truly foster diversity in leadership, change must come from the top down. This includes setting the strategy for and implementing an inclusion policy as well as setting goals and providing mentorship opportunities to help diverse staff move into leadership roles. The Adobe study found that 65% of people of color cited a lack of sponsorship from a senior-level advocate as a barrier to advancement.
And here is where the innovation and consulting industry can slot in.These agencies are hired to help a company create a culture of innovation to support growth opportunities; successful firms will have a track record of instituting high-impact, organizational change, as a result. There is a clear opportunity for agencies to inject inclusion practices into their strategies when working with a company to drive this organizational culture shift.
"We solve problems for our clients through the study of their internal behaviors and habits. Only then can we shift their culture. Empowered change happens when it comes from a place of authenticity," Stillwell said.
"The rise of small, smart, nimble creative agencies is where I see the most poise for a stance on what a culture change can and should be," Rush said. This is evidenced in Worn's own client list. They choose to launch brands and campaigns for women-owned companies or companies that offer a product or service for women, by women.
Be The Example
One way for innovation and consulting agencies to help companies adopt a more inclusive model is to lead by example. By investing in your firm's own culture of inclusion, you deliver the most credible and inspiring message to your clients.
"An important shift for the design community would be not simply focusing on diversity but practicing inclusion,"

Marquise Stillwell, Founder and Principal of Openbox
The Openbox team is diverse and inclusive and everyone has a voice regardless of title or role. Worn takes a similar approach. "At Worn, we don't want to just talk about what companies should be doing, but be the example for other leaders to look to when thinking about how to create a culture that supports women," Rush said. "So, even as a small business, we are thinking about things like maternity leave, smart diverse hiring, office wellness, and hiring an all-female film crew."
Worn gets it, too. Their team is a majority woman team, but even more importantly, they come from different professional and personal backgrounds. They also learn from their diverse clients. We can "learn, be aware, and adapt to the evolving startup and company climates and challenge our clients and community to expect more and be consciously fearless," Rush said.
Empowering the Next Generation of Talent
To foster a more inclusive culture, you might advise your clients to re-evaluate long-standing hiring practices. An article in the Independent asks, what if diversity is not so much about a talent shortage, but an "opportunity gap" in which the best talent lack the networks or degree that until now has traditionally opened doors? Some agencies are actively championing solutions.
Again, many in the technology, strategy, and design world are leading by example and actively championing solutions. Stillwell worked with Black Girls Code to get more women of color into the tech industry. But to him, this was only half the mission. "It's about the process of learning how to code in an environment that has not been traditionally welcoming to a different group of people ," he said. "These women are given tools for problem solving, building their confidence, strengthening their muscles to engage in entirely new ways of thinking … to step into the many industries that need more diversity and inclusion."
The WIN team also embraces a skills-based approach and finds that its most impactful events are the ones that presented tangible skills that could be immediately put into action. These tactics have ranged from negotiation skills to building confidence and a personal brand to exploring "radical empathy" when innovating.
And we can learn from each other along the way. Beyond tools and experiences to succeed, diverse leaders also need room to fail. "Learning and growth doesn't happen without the room to stumble … but the truth is that women and minorities are held to a different standard, and don't always get the second or third chance," Stillwell said. "Access to failure must be met with a strong network, supportive mentors, and especially, conversations with strong leaders willing to tell stories about their own failures on the journey to success."