Catherine Clark and Paul McDowall founded Clarkmcdowall 20 years ago, each bringing their own perspective and experience to the venture -- Catherine from a strategy and innovation standpoint and Paul as a prior creative director at a design firm. Previously, both had experienced the all-too-familiar limitations of trying to solve problems in a vacuum.
"I was briefing designers to do things, and Paul was receiving briefs from people. We wanted to create a company that brought these two things together," Catherine said. "I don't think there are many competitors who are owned fifty-fifty by a creative person and a strategist. The idea was to think more like architects and solve problems holistically."
"Over the last few years, we've come to a good place where people are truly collaborating with each other and there's a sense of collective problem-solving," Catherine said. The team, a community of 20 talented individuals, share common traits but hail from a wide range of disciplines.
Effective Recruitment Demands Empathetic Leadership
Because the success of a company is driven by its people, we first talked about Clarkmcdowall's broader values and what traits or characteristics it recruits for. Catherine and Paul both spoke of thoughtfulness, creativity in problem solving, strong camaraderie, effort, and spontaneity.
The agency has also long sought people who are comfortable with the uncomfortable, who thrive with the unknown. "Our clients are navigating an unpredictable world and our role as brand architects is to bring clarity, drive decisions and help them anticipate what's next" Catherine said. "As a result, we look for people that have an openness to partner with our clients on undefined briefs and the ability to adapt as the brief continues to evolve. We've seen not everyone thrives in this environment and it's important for us to have a team that leans in and gets energized by the unknown."
For projects, they thoughtfully bring various disciplines and perspectives together to solve problems. "This approach to collaboration means that you have to have real respect and empathy for people who think differently than you," Catherine said. "When we recruit, we look for people who naturally want to build on things that are unexpected and different, because by executing for clients, sometimes you challenge a strategy."
For Paul, he seeks people that want to grow, beyond just a title change. "It's folks that really want to learn and expand themselves. We invite people to lean in, not just to the work, but also to the company as well and think about how we become better as a whole," he said.
COVID-19 has, of course, changed things for Clarkmcdowall. The team had to rapidly transition from its studio space in New York to a remote work environment. At Bamboo Crowd, we're especially curious what this shift to remote working means for recruitment, especially with junior hires who may require more upfront support and coaching. Does this result in a greater reliance on more experienced, freelance talent? Or is there a shift to hire more experienced people who can slide comfortably into remote working with less mentorship? What we see with Clarkmcdowall is that its most sought-after talent traits have never been more relevant as they are today, amidst the workplace transformation.
To begin, Clarkmcdowall, by design and by success, is predominantly a more senior team, Catherine explained. In general, the agency is leveraging more freelancers today than before, many of whom are senior-level. But, "it doesn't mean that you cannot hire more junior people. It's the way you onboard, work with, and nurture them that shifts." It also puts more onus on leadership to foster employee growth and success. "It's more incumbent on the managers to be diligent and empathize with the folks on their team," Catherine said.
Yet the shift has also presented an opportunity for Clarkmcdowall to think about hiring people outside of the New York area. "Suddenly the talent pool expanded," she said. "In some ways, it's made us more open to hiring new kinds of talent and willing to take risks because people can work from where they are. There's a bit more fluidity and a desire to try things out."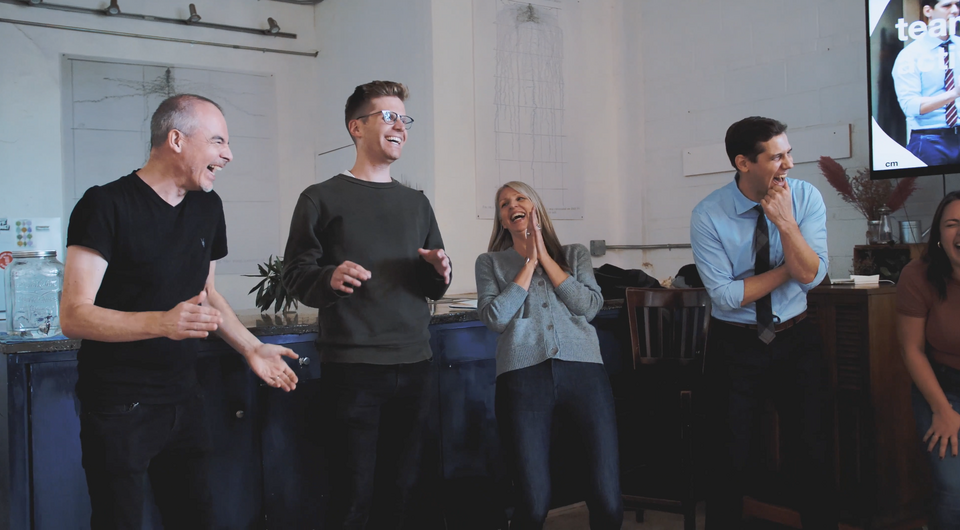 Our clients are navigating an unpredictable world and our role as brand architects is to bring clarity, drive decisions and help them anticipate what's next

Catherine Clark, Founder
From Workplace to Work Space
As with so many other businesses, Clarkmcdowall found itself in a sudden transition to a home-office environment. Catherine explains how leadership nurtured this transformation in both a deliberate and spontaneous manner. "In the deliberate bucket, when we started going remote, we had very casual things like breakout coffees between just a few people, Friday afternoon drinks, and town halls," she said.
As an anecdote, Paul mentioned the story of a new team member (who Bamboo Crowd placed with the agency) who recently reached out to Paul to ask for a 30-minute conversation. She had never worked in the studio -- her experience to date has been entirely remote. Paul's immediate thought was, oh, no, what's wrong? But turns out, she wanted to establish a cadence of communication to interact directly with Paul outside of normal project work, he explained. And during that first call, she assuaged Paul's concern when she discussed how much she enjoyed the work and culture of the company.
"She played back basically everything that Catherine and I have tried to do over the last 20 years, unsolicited," Paul said. He told us that she talked about how Clarkmcdowall collaborates both externally, with clients, and internally, with the team.
She also asked how the team can keep this culture going, remotely. "In a remote or hybrid situation, beyond virtual coffees and other deliberate activities, the question is, how do you make sure that the specialness of your agency, which is your culture, holds true," Paul said. It's something he and Catherine look forward to protecting and building going forward.
Clarkmcdowall, like others, is doubling down on the right platforms and tech to enable remote work, such as shifting project management systems to Google Suite, refreshing its brand identity, "and, literally, changing every corner of the agency, from the way to do finance to the way we do time sheets," Catherine said. What we hear in this is an innate openness to embrace change. What we also hear is that it's vitally important right now -- not just for Clarkmcdowall but other peer agencies -- to attract the right talent that can roll with these changes, especially those people that are "energized by that sort of momentum as well," Catherine said.
To foster team connection and culture, there are many clear, natural transitions from past office activities to virtual renditions. For example, with welcome lunches, new employees and others now get food delivered to their respective homes and then share a virtual lunch, together. But Paul and Catherine are also open and realistic about long-term shifts to work preferences. "I think that when it comes to the space, at some point, some people will go back and some people won't. Some people will just move out of the city altogether," Paul said.
"We don't want this to be a compromise situation, when, in fact, it opens up opportunity. We are allowing people to move or to do whatever they need to do with their life. We anticipate there will be a core number of people who will still live in New York City, and so we'll still have a space," Catherine said. Clarkmcdowall is exploring new roles for the space, perhaps as less of an office and more as a space for imagination, collaboration and unity.
Today's environment demands fast, iterative work and quick response from brands, but we don't want that to come at the cost of quality of work. What our team does so well is continue to reinvent ways of doing things that adapt to our clients' needs and consumer expectations


Paul McDowall
The Client Side
We're also curious how these workplace shifts have impacted or changed Clarkmcdowall's client offerings and opportunities.
"On the strategy side, with this new mode of working we offer more frequent informal small team sessions, versus formal in-person share-outs. So while we have less social interactions in the corridors or at a client dinner, on the flipside, we're talking to them more often and staying connected," Catherine said. "We're doing things live on a computer instead of bringing everyone in when something is done and baked, and so, in some ways, it's made it more fluid." The result is often less fatigue from long days and more opportunities for smaller, more playful interactions via breakout rooms, for example.
From the design side, Paul has a slightly different experience. "We're seeing in the creative process, those serendipitous moments of collaboration are not happening as organically or frequently as before. We've had to innovate and find new ways of creating opportunity for casual exchanges, conversation and ideas to flow freely," he said
This has also led to changes on the client side, Paul explains. "We've also had to adapt to new client expectations. Today's environment demands fast, iterative work and quick response from brands, but we don't want that to come at the cost of quality of work. What our team does so well is continue to reinvent ways of doing things that adapt to our clients' needs and consumer expectations," Paul said.
The shared experience of the pandemic and 2020, in general, has also inspired Clarkmcdowall to further refine its own perspective as an agency. Think less of a focus on clients who seek a global agency with offices in every timezone, Catherine explains, and more of a roster of clients who desire less rigid processes and more agility. "And, if anything, I'd say from a cultural standpoint, this shift has galvanized it," she said.
The team, for example, was brought even closer together through big conversations with the team around Black Lives Matter and the movement for racial equality. "We've come closer in our culture, and, in some ways, further defined it because while we don't have a space, everybody is trying to find togetherness," Catherine said.
"In some ways the challenges of our business model has also been our salvation in that we've been able to take on different types of work. Clients are hiring us for the way we think and not necessarily for one type of work. I don't know that Paul and I have the answer yet in terms of what the future holds for our business, but that excites us. We are an agency that will continue to evolve with our clients," Catherine said.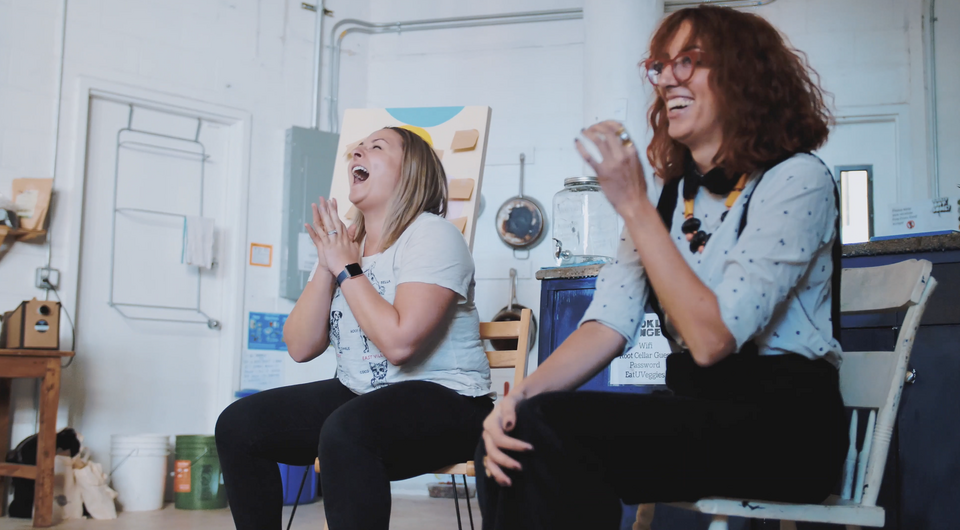 Blast-Off to the Future
Now is also a time to come together, even as competitors. "The one thing we know is that we need to be adaptable, fluid, nimble, and understand what people need outside of what our clients are looking for. I do think there'll be more partnerships with other agencies than in the past," Catherine said.
Clarkmcdowall is part of an agency owners collaborative that connects monthly to exchange ideas. "I wouldn't be surprised if we saw collaborations and partnerships over the next couple of years that never would have happened before," Catherine said.
A lot will change, but Clarkmcdowall is ready and eager for the future. "Technology will evolve, and the role of brands and how this manifests in the way we think will continue to shift and change radically," Paul said. To him, this change is not only inevitable, but he believes it will speed up exponentially. "It doesn't just mean we'll push toward digital, as we have been for the last two years, but fundamentally, what does this mean? What does it mean to be adaptive? It's exciting. It's changing because there are new things to do, new problems to solve, new opportunities. And it will fundamentally shift brands and branding," Paul said.
Ultimately, embracing traits like resiliency and adaptability, recruiting people who thrive in new or challenging environments, and investing in these qualities as an organization, through technology, talent, and culture, is one way not just through this, but forward. "Change is on rocket boosters at the moment," Paul said. "It's incumbent on us to think that way as well, and to help our clients do that, too, so that we're all future-ready."
Curious to hear more insights, find your next role, or talk all things innovation? Be sure to message Chelsea Power, or register with us to stay in the know!