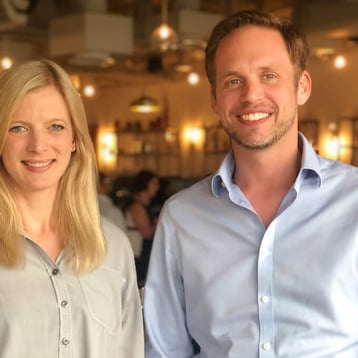 This week, we are featuring Chloe Wolff and Daniel Mueller, co-founders of intandem. intandem jointly creates and launches scalable new businesses to help their clients win in the fight against disruptive start-ups.
First thing's first – please can you give us an overview of your experience in Innovation?
As co-founders, we've been working exclusively in corporate innovation, growth and new ventures for over a decade, across Big Consultancy, a market-leading boutique and now in our own business. We founded intandem with a mission to make innovation and corporate venturing more impactful and a more reliable driver of our clients' next £100m+ business.
In your opinion, how has the service of innovation consulting changed and evolved over the last five years?
In the early days, we had to make the case to clients far more. Now the need to innovate is more of a given, and is understood at most levels of the business. Alongside this, clients have become more sophisticated in their understanding and use of the innovation toolkit, from design thinking to lean start-up and better external engagement, with start-ups and partners.
Increased client demand has been reflected by an explosion of new agencies and consultancies entering the space and acquisitions of most of the established names. Every Big4 and Systems Integrator now has an innovation practice. However, the services offered have evolved more incrementally. Digital, new channels and customer experience have been the focus of the last few years. We believe the next wave will focus on innovating more fundamentally in the business model, and this requires a more specialised consultancy partner.
To be successful in innovation consulting today, what would you say are the key skills needed? And how have these changed?
Today, the ideal next hire is a polymath, who balances creativity with commerciality, has digital and tech skills and blends corporate savvy with entrepreneurial flair. Oh…and a strong consulting toolkit! This "unicorn" is rather hard to find.
We focus on finding people with aspects of the skillset, but most importantly the intellectual curiosity and passion for making a difference and tenacity to stay the course. They might come from consultancies, innovation agencies or from client side. We like to think of ourselves as "multipliers" – we take the time to find out what motivates people, and empower them achieve it, providing the support and coaching they need to get there. We invest in preparing them for successful careers in the field of corporate innovation — both at intandem and beyond.
Brexit. How do you think it will impact the consulting industry in the UK?
I don't think we yet know. We've not seen too much of a direct impact yet on our business, but it's having a huge effect on our clients' core business, for example in automotive. We must remember that innovation budgets, whilst more resilient than in the past, remain a "nice to have". Due to the global nature of our clients, we're probably more concerned by the impact of a worldwide economic downturn.
Where do you think the world of innovation consulting is going? Who will succeed and who will fail?
We believe it's time for a change in narrative. The idea that the future belongs only to start-ups ignores the terrible odds of those businesses reaching £500m+ (just one in 17,000). The next wave of innovation will go beyond the themes of digitisation and customer experience to re-shape industries more fundamentally, often in heavily regulated sectors or requiring significant CAPEX investment to drive technology shifts. Large corporates are well placed to lead in this future, once you understand the playing field.
We're trying to put big businesses back at the heart of innovation – we call it the "corporate comeback". We think the odds of a new venture or business succeeding can be brought down if approached differently. We've engineered our business to bring this about.
Unlike others, we balance innovation and exploitation potential – for example, by recognising the attributes that make the core business successful. We chase down risk by combining what has already been proven. Building around a corporate partnership, a start-up investment, an existing go-to-market or a proven technology platform dramatically improves the chances that a new venture will succeed.
What would you say makes intandem different?
We believe that innovation consulting needs to deliver more value. The consulting industry has been due a shake up for a while, and clients should expect more ROI from their spend on innovation. For us, this means skin in the game – we share in our clients' risk and their reward as we jointly bring new products, services and ventures to market.
If you are interested in working for companies like this, then take a look at our jobs or get in touch. You can find out more about intandem's work, journey and people on their website.