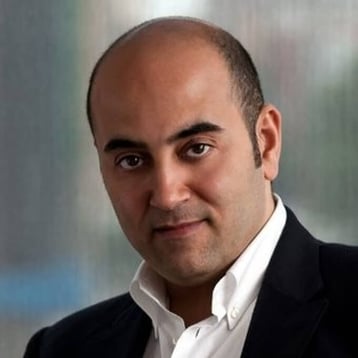 This week, we are featuring Rony Zibara, who is a Partner at Fahrenheit 212. Fahrenheit 212 is an innovation strategy and design firm with offices in New York, London, Paris, Munich, Stockholm and Los Angeles. We have been working with Fahrenheit 212 for over five years, ever since they needed someone to help them set up their London office. Today, they have over 200 people worldwide and are part of Capgemini Invent, a new business line committed to delivering high-impact digital innovation for some of the world's biggest companies.
First thing's first - please can you give us an overview of your experience in Innovation?
The concept of 'innovation strategy' originated at Fahrenheit 212, where we realized that we needed to turn Innovation from a brainstorming activity into a strategic discipline, and thus was born the idea and terminology for innovation strategy. We have been a leader in innovation strategy ever since and we use it across all of our projects, regardless of size, scope or importance. It is a core part of our deliverable, and it is the essence of why our ideas have a very high in-market launch rate.
Everything we do results in a unique and compelling customer experience. It is not a thing in and of itself, it is the outcome of a meaningful idea turned into a meaningful experience that engages people in innovative ways.
In your opinion, how has the service of innovation consulting changed and evolved over the last five years?
Innovation consulting has been in a constant rate of flux as a direct result of the industry maturing. As more players are tempted by this field, there are new approaches, new interpretations, and new challenges that they must contend with. It is not a fixed practice, it is constantly changing to meet the rate of change of organisations as they are impacted by business model compression and the mass wave of customer centricity driving disintermediation in every industry.
For F212, which is a part of Capgemini Invent, digital is a means to an end, not a starting point. We aim to solve big business challenges which may or may not result in a digital solution.
To be successful in innovation consulting today, what would you say are the key skills needed? And how have these changed?
The past 50 years, companies were built and measured on their levels of efficiency as it pertains to bottom-line optimisation, with that came the culture of '5-year strategies' which meant a set-and-execute approach to running a business. Conversely, the education system mirrored this approach which created a wave of strategically-inflexible leaders unable to cope with the needs of the modern economy of continual change.
The talent that is in demand today are those with a nimble approach to business. We want people who have an entrepreneurial mindset, who have a flexible approach to challenges, and who can develop solutions that have the ability to grow organically - or change as they are impacted by external forces. While this may be called 'agile', it is more connected to the inner operations of a company and its philosophy, versus purely how a company approaches risk.
Brexit. How do you think it will impact the consulting industry in the UK?
It is too early and too late to tell at this point. We are in the eye of the storm and cannot see a way out yet. However, UK businesses which are heavily impacted in such sectors as Financial Services, Retail, Consumer Packaged Goods (CPG), Logistics, etc. will need to innovate their way out of the regressive impact of Brexit. Businesses will be operating like it's the 90s until the point where they can catch up legally, administratively, technically, and meet the high expectations of their customers from a service perspective.
Where do you think the world of innovation consulting is going? Who will succeed and who will fail?
Innovation consulting is heading towards becoming the lion's share of the consulting industry - it will no longer be a sub-segment. Innovation and growth are key to every single activity in every single organization, and management consultants will become innovation consultants by default because everything they do has to be about innovation. This means that micro-segments will be born in innovation consulting that serve specific aspects of business - think of these as the micro-breweries, the boutique hotels, the Airbnb of consulting. We are already seeing a lack of success in innovation in markets like Paris, which bets heavily on open innovation and companies are now choosing more rigorous forms of innovation that ensure their ROI and ROP (Return on People).
What would you say makes Fahrenheit 212 different?
Fahrenheit 212 remains unique in its approach because of its methodology, 'Money + Magic' which applies a commercial lens from the outset. It is commercially-led innovation with creatively-applied solutions that meet both business needs and consumer needs. For the past 17 years, our approach has proven that we have forged something that produces real outcomes. It is nimble, entrepreneurial and ensures that what we create goes to market and performs in that market.
If you are interested in working for companies like this, then take a look at our jobs or get in touch. You can find out more about Fahrenheit 212's work, journey and people on their website.