In our experience, people often enter the innovation space after working in other areas, like brand strategy or advertising. But Maria dove head-first into innovation following an inspirational class visit in her very last undergraduate lecture at Goldsmiths, University of London- where she was studying anthropology.
"Someone came in to talk about what they do at IDEO and something clicked. I immediately knew that's what I wanted to do. It sounded like the most applicable way to take what I've learned in a very theoretical field," Maria says.
Maria then enrolled in the MA Innovation Management program at the University of the Arts London. It was one of the first programs to locate innovation within an arts and design college, which perhaps set the stage for other prestigious programs, like the School of Visual Arts and Parsons School of Design.
"The goal of the program was to blend the creativity of that amazing art school with a more robust business lens, and I saw how my background could bring in another angle," Maria shares.
Closing the Gender Gap: Women In Innovation
Early-on and throughout her career, Maria had experienced the frustrations of gender-based "microaggressions or unconscious biases", wherein "male counterparts would get promoted for equivalent performance, or [Maria's] ideas would be appropriated and become somebody else's idea," she said. But rather than sitting back and accepting this as the norm, Maria had a hypothesis: that she was not alone in these experiences and frustrations—and so she'd decided to do something about it.
In 2016, Maria invited friends and colleagues to dinner with the goal of workshopping some challenges of gender dynamics in the workplace. "In that first dinner, we created the first 12 months of programs and then started executing on bringing together experts to teach us things, from negotiation to persuasion to storytelling—relevant topics that we all felt like we needed more training and support on," she said. This was the start of Women in Innovation: a mission-driven organization with a vision to close the gender gap in leadership in the field of innovation.
It blew up quickly. We were overwhelmed with the response from the innovation community, and I think we're currently at 7,000 members.
- Maria Potoroczyn, Co-Founder of Women in Innovation
Today, Women in Innovation has operations based in New York City, San Francisco, and London, and continues to offer action-oriented, monthly programming sessions; practical tools and resources; and a high-impact community. The organization is set to host its first-ever Women in Innovation Awards Gala in September. "The evolution has not ended," Maria says.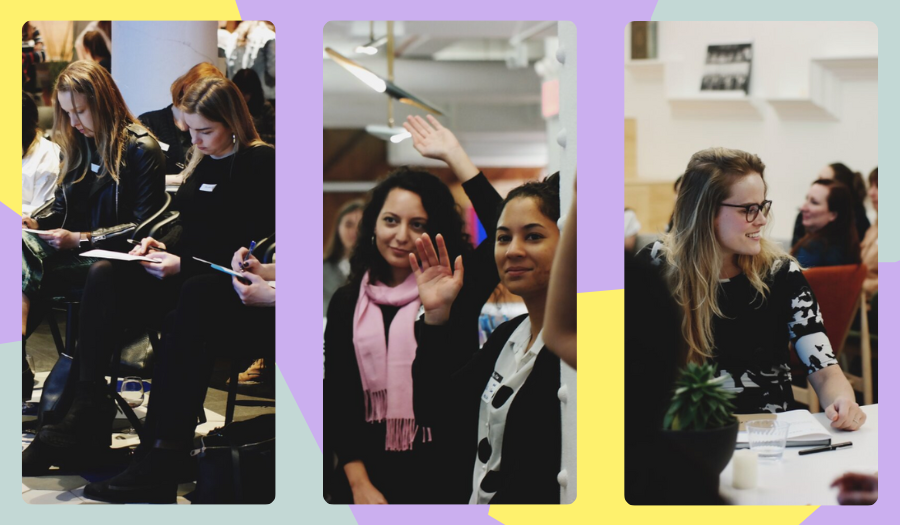 Women in Innovation's monthly events bring together a variety of innovators to explore topics like leadership, development, and growth.
In general, companies that truly invest in nurturing more diverse teams will have a talent advantage over those who simply pay lip service. "There's two things that I think of. One is representation and the other is recruiting," Maria explains. "I feel like recruiting talent is almost more important than retaining talent. When I think about representation, if you don't see yourself on the team's page, you won't apply. Or maybe you will, but you're always going to have this feeling like, can I fit in?"
Maria has suggestions for recruiters, too. "There are so many small changes that you can make as a talent team, like obscuring names and sometimes obscuring universities, because it really does help unbias the process," Maria said.
I don't believe this can be solved by just telling people: let's hire diverse people. There's so much unconscious bias at play that you just have to train people and constantly make it a topic of conversation internally in all of the recruiting decision-making.
- Maria Potoroczyn, Co-Founder of Women in Innovation
How to Start (and Survive) a Side-Hustle
One trend that we often see in the innovation space is full-time employees seeking out side gigs— or even aspiring to launch their own business— while still working 40-plus hours a week. In these cases, Maria suggests partnering with a colleague who you already work well with; it can allow for a more seamless endeavor when you come at it with built-in trust, support, and a shared vision (not to mention more hands to carry the workload).
Another tip for go-getters: Think deeply about where you are, both professionally and personally. "Are you in a life stage where you want to be spinning plates? Or are you in the life stage where you just want to be more still?" Maria asks.
A few years back, I was very much in the spinning-plates life stage. I actually find right now that I'm trying to remove distractions and not overcommit. I recognize the power of focus and simplicity. Doing less means doing things better and reaping higher rewards.
- Maria Potoroczyn, Co-Founder of Women in Innovation
Habit & Co is a Good Habit
That spinning-plates feeling leads us to another important consideration for every person in every industry: mental health. We all have a lot on our plates: the pandemic, parenthood, professional careers and new jobs, chronic stress, anxiety, burnout- the list goes on.
Over the last few years, Maria's professional life was "insanely intense," she tells us. So, this year, she took a sabbatical to rest. "In the process of trying to understand what happened to me over the past two or three years, I started understanding that I'm not alone. There are so many people out there suffering from the same thing," Maria said.
Maria researched protocols and practices, from mindfulness to microdosing and from yoga to breathwork. "I found the whole thing fascinating."
I think we need more normalization of burnout, chronic stress, anxiety, panic attacks. All of those things are a result of pushing yourself over your limits, and those limits can be very different for different people.
- Maria Potoroczyn, Co-Founder of Habit & Co.
Along with her co-founder Lauren Vriens, Maria launched Habit & Co this year, which offers science-backed programming and a community for breaking up with stress and anxiety.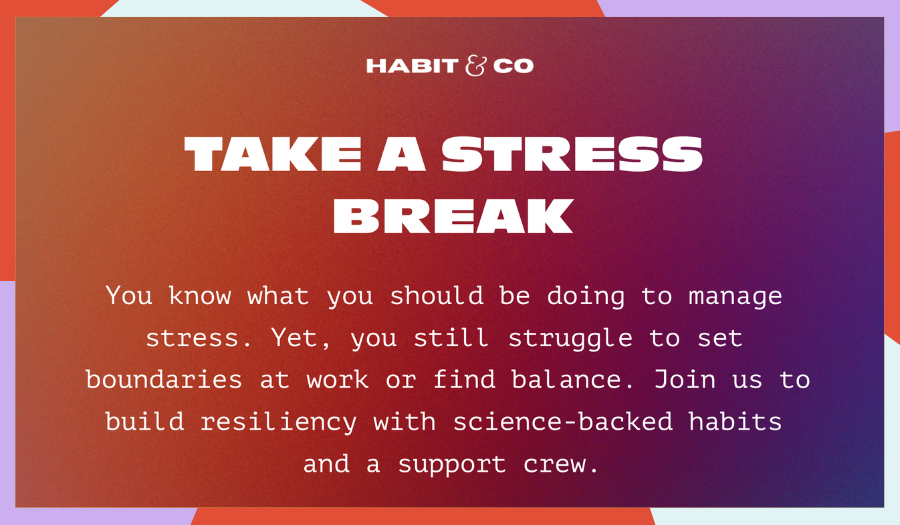 "It doesn't seem that there's anything quite like this out there," Maria says on Habit & Co.
Habit & Co was born out of my frustration with the fact that I had to plow through academic papers to understand what is actually evidence-based and science-backed and what isn't. And I realized that it's actually very inaccessible to most people.
- Maria Potoroczyn, Co-Founder of Habit & Co.
Habit & Co makes stress management more accessible for more people by curating solutions and practices that actually work for people.
They also built a community out of it. "​We stumbled upon this notion that none of the stress or anxiety tools out there today are really community-based. We had this strong hunch—that we were able to prove out in research—that just hearing other people talk about their experience normalizes your experience, it builds your empathy towards those people," Maria said. "Building empathy towards others actually helps you build empathy towards yourself. We are seeing that community can truly be the secret sauce of Habit & Co, to truly bring something fresh and new into the market."
Habit & Co hosts small-group cohorts in three-month cycles. "We meet every two weeks, it's only 60 minutes of your time, and then we guide you gently over the two weeks in-between with new practices to experiment with," Maria said. "We don't believe there is like a one-size-fits-all."
We can't remove stress from our lives, but we can find practices and habits and rituals that help us taper it down and keep it at a manageable level, and I think that's what we're all after.
- Maria Potoroczyn, Co-Founder of Habit & Co.
Whether you seek tools for managing stress, or desire to join a cohort of women in leadership, we can help you make connections with movers and shakers like Maria. Or, if you're eager to make your own head-first dive into the innovation industry, be sure to contact Alex Pavlou to hear more about open roles and register with Bamboo Crowd for other opportunities and insights.