Note: Please also see this piece with Sylvain Labs CEO Alain Sylvain.
From a Vista of Flatness: Culture and Talent at Sylvain Labs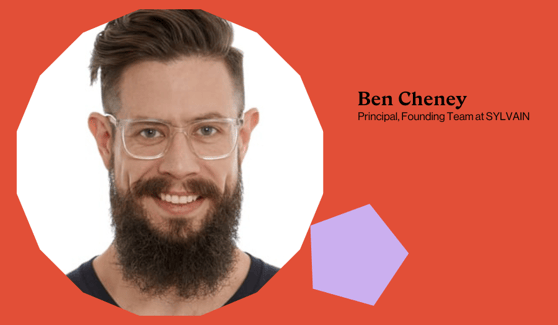 First, it's worth noting that a critical element of the Sylvain Labs culture is flatness as a value. For some time, the team purposely held no titles; it was composed of strategists or designers, generally.
"The result is that any one can ask questions, challenge others, and have a respectful discourse, no matter if you're an intern or CEO. Wherever you sit, there's a mutual respect that is critical to the work and who we are," Ben Cheney said.
"We hire very slowly and thoughtfully. We're 10 years old and we're only 45 people," Ben said. It's an intentional cadence of growth; Sylvain Labs has never had to scale back for business purposes. "For us, it's important to maintain this. It builds trust internally and a better working environment," Ben said.
Clients are wide-ranging across verticals, including food and beverage, tech, automotive, and financial services. "The consistent thread is interesting challenges, whether they're brand or innovation. These are big, meaty challenges that don't have a right answer or a wrong answer or a clear answer. To build a rapport and trust with clients to develop something unique and original that helps them make an impact on the world, that's what we look for," Ben said.
For example, a multinational automotive corporation had launched a 4G hotspot in its vehicles fleet-wide, but then asked, what do we do with it? Sylvain Labs conducted a global qualitative study to dissect what drivers need and how connectivity could solve these problems. During the 15-month innovation project, Ben and his team met in drivers' homes to understand their tech behaviors at home, and rode in their vehicles with them.
"We applied this to a driving journey, which begins with where your car is currently parked, to when you drive it, to when you finally return it to a parking spot, mapping hundreds of needs across this user journey," Ben said. Sylvain Labs then created solutions and pathways to innovation for every need in close collaboration with the client.
"It was a very roll-up-your sleeves project that continues to show itself in the real world," Ben said, including in his own car and personal driver journey. "In the innovation space … to be able to see these things realized is special," Ben said.
We had a vision for creating a company that really embodied the rigor and science of innovation strategy but also the creative humanity of other companies in the advertising world. There was a void there.

Ben Cheney, Principal
Shifting from innovation to brand strategy, we further see how Sylvain Labs tackles some pretty big questions. Google had long recognized general flaws in the mobile experience (think battery life, storage capacity, and the shared frustration of illegible talk-to-text messages) and sought to fix it. Sylvain Labs helped the company lay the groundwork for its first major hardware bet that leveraged Google's "truth" and identity to embed simplicity, consistency, trust, and even whimsy into every hardware and software element.
At Sylvain Labs, "we had a vision for creating a company that really embodied the rigor and science of innovation strategy but also the creative humanity of other companies in the advertising world. There was a void there," Ben said. Often, much of the work in innovation is data-driven and void of that "human spirit".
This focus on creative humanity and relationships built on trust and mutual support -- both internal and external -- is just one of many tools helping the company navigate the pandemic. Ben is based in Richmond along with a few team members in a shared office space; the remainder work out of the New York or Amsterdam office. "So, I'm not truly remote. It set us up to transition pretty seamlessly into this world," Ben said. "Caring for each other, at a time like this, becomes extremely important and we've been able to adjust well because of it."
Progress is a Map for Uncertain Times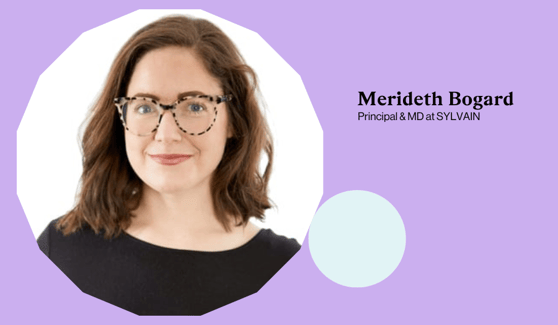 Being proactive is another big part of Sylvain Lab's culture. The team has a penchant for not waiting to be told what they should be doing, of figuring out a way to add value and take work to new places, and of embracing the hunger and ambition that comes from such an attitude. "The people that thrive at Sylvain Labs come in with this. It comes from [CEO] Alain, but it's now a vibe of the company," Merideth Bogard said.
Enter the current pandemic, which is transforming industries and the way we work, at a global scale. If ever there was a need to navigate uncertainty -- or help others leverage the moment to shape a better way forward -- it certainly is right now.
"We look to psychology or human evolution or history for inspiration, but the most obvious thing in a time of crises is the innate human reaction of the survival instinct of fleeing or fighting. It's natural. You can see this reaction in how, we, as people, have been reacting to COVID," Merideth said.
The team thought about a more dormant strength. "We call it the progress instinct, about not fighting or fleeing but uniting and imagining, using these human traits of working together and collaborating to imagine what doesn't exist to find new possibilities when things can look quite uncertain," Merideth said.
"It's true to how we've always worked. And, at the time of COVID, it became more relevant and urgent because it's natural to feel a paralysis and an uncertainty about what to do. In pushing this idea further, we thought about the idea of the progress instinct," Merideth said. "The School of Progress arose out of this. It all started with the belief of not waiting for things to happen or change," she said.
We call it the progress instinct, about not fighting or fleeing but uniting and imagining, using these human traits of working together and collaborating to imagine what doesn't exist to find new possibilities when things can look quite uncertain.

Merideth Bogard, Principal
The School of Progress
So, as thinkers and doers themselves, in May 2020, Sylvain Labs launched the School of Progress to help people activate the progress instinct in a real-world way. It helps teams to "lean in" to uncertainty and awaken instincts to progress in times of crisis toward a better future.
Each day at school, there's a new focus including insights, inspiration, trainings on specific tools, techniques, and methodologies, and "activation workshops". Graduates return to their own organizations or careers on a clear path armed with actionable insights.
One part of the School of Progress focuses on social drive and the "uniting" side of the progress instinct. "We looked back at case studies or success stories of people or companies who in times of crises managed to unite with others," Merideth said. Eleanor Roosevelt arose as an exemplar. Recall that during WWII she helped increase roles for women and Black people in the war effort and advocated for women of all social backgrounds to learn trades and be given factory jobs, even before it became a widespread practice, all while campaigning for government-sponsored day care, and so much more.
The school is about both empathy and responsibility. "Empathy and being able to put yourself in the shoes of others and project what they need and how they're feeling and ultimately act on that. While empathy is about looking out, responsibility is about looking in and identifying strengths and what I can bring to the table to add value," Merideth said. Another key aspect of the school is focused on activating imagination.
"Through the workshop, the goal is to get people to center on a shared challenge, a unified brief that everyone can work against to practice and master these skills and apply it to their world or their work," Merideth said.
In terms of the ideal student, the right fit is not a small box, Merideth explained. "In an ideal world, it's people who work in the brand innovation space who have the power through their resources -- their products or communications -- to make an impact to drive progress," she said.
Evolving Forward
We asked what the future holds for the School of Progress. Can a course that leverages a seminal moment in uncertainty sustain relevance in a post-pandemic world? How does it evolve?
Sadly, there may always be a crisis that's relevant to this way of thinking, Merideth explained.
"In some ways, the School of Progress could be universal and useful beyond, but right now, the curriculum is designed around a moment of crises. It's anchored in this tension and it doesn't have to be COVID. More and more frequently, it's an open question, how much is it anchored in crises versus the idea of progress in general, which is still powerful," Merideth said.
An early cohort at the school featured several current clients and freelancers learning to master their own craft, and even talent from other agencies looking for new ways of thinking. "We launched the School of Progress with our clients at the center. To add value for them and build deeper relationships, but we found a lot of interest from outside talent," Merideth said.
Another early cohort consisted of a core team from a global financial services company, a current client of Sylvain Labs. "It was the same general approach but the brief is much closer to home, something they're actively thinking about in their day to day," Merideth said.
Next up, Alain and his team are experimenting with other manifestations of "progress", including the Progress Report, a content platform with monthly Off-White Papers and weekly newsletters that explore key leadership imperatives and share tools that make sure the thinking is moving from the page to moving your teams.
Ready to engage your own progress instinct? Sign up for Sylvain Lab's weekly newsletter (and get a promo code for a free download of their July paper, "Distributed, Not Divided: The Urgency in Building Cohesion At Work"). And be sure to check out the addendum, an extension of Sylvain Labs' thinking around the current state of distribution as it applies to collective activist movements.
Curious to learn more about companies like Sylvain Labs, and even potentially work with one? Be sure to register with us to get started, and check back for more insights!