Bamboo Crowd is delighted to announce the appointment of a new Partner, Neil Wittensleger. Neil joins to help further strengthen and grow our capability in supporting our clients to hire world-class Software Engineers, Product Managers, Data Scientists and Data Analysts.
Coming from Melbourne, Australia with over 10 years of experience in the Startup and Venture Capital ecosystem in the US, Neil has helped companies like Gusto, Aktana, Bread, Storyblocks, VidIQ, and Derivative Path to hire Engineering Managers, Product Leaders, and C-Suite Executives across Technology, Data, and Analytics.
With Neil's experience and expertise in helping early to mid-stage startups hire and scale teams in Engineering, Product, Data Science and Analytics, Bamboo Crowd is looking forward to growing their ability to help companies in the innovation economy to imagine, build, launch, and scale new products, experiences, and ventures.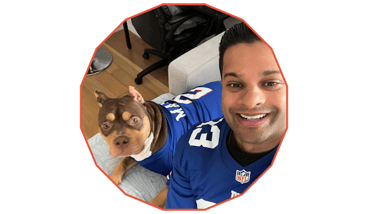 Neil's a proud Dog dad to an American Bully XL weighing over 95 pounds! And an avid NY Giants, Rangers, and Yankees fan!
"We're really excited to have a new Partner in Neil who brings a wealth of knowledge and dedication to helping startups and VC's access the high-caliber talent they need to get new products, features, and emerging technologies into market," said Alex Pavlou, Founder & CEO of Bamboo Crowd. "We're focused on helping our clients execute by helping them hire and develop world-class talent. We understand that making the wrong hires can hold back innovation and our high-bar for excellence has led to continued partnerships with some of the most promising startups and VCs in the ecosystem."
If you're looking to build your Product + Engineering team, find your next role, or talk New York sports, be sure to connect with Neil!