Life is full of decisions, both big and small. We spend most of our day making a variety of decisions: from what to have for lunch and when to host a zoom call, to where we're grabbing happy hour after work and when we want to call mom back. An important decision that many would say could make or break their day is that first cup of morning brew. Anna Chau shared her routine as one of her first decisions of the day with us when getting into our conversation about her new role at Thrivent.
"I like it really basic- straight black, Americano. It's what I prefer just to get that kick start in the morning. But if I'm feeling adventurous, a dash of some plant-based milk- like almond or oat- does the trick."
While something as simple as choosing to add cream to a coffee may seem mundane, it's these small, everyday choices that we can learn so much from. How can choosing something different, spontaneous, or uncomfortable impact your day, your career, or even your life?
It was a massive choice in Anna's life that put her on the path to Thrivent: a financial services company that has allowed her to explore a new journey in her career as a product designer.
Thrivent's main goal is to help people use money as a tool. That means that they really value understanding a person's goals, what they want in their life, their career, and how to utilize money to support that goal.
- Anna Chau, Product Designer at Thrivent
Anna's decision to join the Thrivent team has thrown her into a design position that has already rewarded her with growth opportunities within her first few months. We chatted with Anna further to learn more about her big leap from fast-paced agency to long-term team player.
Let's Get Adventurous
It's easy to forget that while job hunting can feel like a series of tedious applications and conversations, it does place the job hunter in a very unique position. Every new role can offer a fresh start full of learning, growth, hope, and opportunity. These are emotions we aim to connect with more often when on the hunt, as they can ultimately have a positive effect on our perspective.
Anna was excited for her new career adventure, and she'd had several opportunities she was looking forward to. She'd shared that there are 3 core values she'd kept in mind as she'd perused some of those open opportunities:
Meaningful, impactful work
Connected and engaging team
Shifting towards an in-house opportunity
"As a designer, I think I was really looking for work that is meaningful, that's actually making an impact and helping others," she shares.
"As I spoke through the interviews, I really enjoyed those conversations [with the people I'd spoken with]. It makes me excited to work with other designers, other people if I were to join," Anna beams.
"Lastly, I was really looking forward to working in-house, because previously I'd worked in a few agencies. While I'd learned really quickly in the agency environment and got to experience different sections of work, I'd really wanted to test and challenge myself by getting into the long-term details of the work and create an end-to-end experience, really digging into the nooks and crannies of how that would look."
Anna took on her job hunt not as an obstacle, but as a new and challenging project. It was an opportunity for her to not only find a role that would expand her product design toolbox, but would connect her with a company that positively impacts its users.
With Thrivent, she has found that and more.
What I enjoy most at Thrivent is the people I've encountered, and the people that I work with. They are all genuinely nice, really supportive, and have helped me feel comfortable asking questions, sharing my work, and getting feedback. I think that overall just motivates me to be excited to log on every day. That's why I enjoy working here: the people.
- Anna Chau, Product Designer at Thrivent
While Anna had specific criteria for what she wanted out of her next role, her journey surprised her with the unexpected perks of positive, uplifting teamwork. Overall, she is filled with excitement as she takes on the next chapter in her career.
Every Step Forward Counts
As exciting as starting a new role can be, there are a number of challenges that many face along the way. There is the stress of learning a new workflow, the social anxiety of meeting coworkers and managers, the hours of training that can feel exhausting, and more. We often forget to give ourselves credit for all that it takes to "hit the ground running" in a new role.
When we asked Anna what she was most proud of in her new role so far, her answer was one that we should all remind ourselves to celebrate.
"I'm proud of just taking this next step," Anna said, "and diving into in-house work.
I'm really proud that I've been able to embrace these new methodologies, new team structures, and adapt to this type of work. I've been able to also bring my own perspective from my previous roles to help improve communication between my teams and have provided a new perspective on how we work and present our work as well.
- Anna Chau, Product Designer at Thrivent
Truly, every moment in a role is worth celebrating, and it's important to pause and reflect on all milestones of a career journey. Sure, we love to celebrate those huge projects and major promotions - but it took every step along the way to get there, and each step is a valuable cause for celebration.
There's a Light at the End of the Tunnel
While Anna's overall job hunting adventure was filled with positive outlooks and excitement, there were also a few expected hurdles that we've all experienced while seeking out a new role.
"We've all heard the saying that looking for that next role is kind of a full job itself," Anna says. "You have to write all those resumes. You have to search for the right opportunities, talk to interviewers, yada yada."
"I first connected with Bamboo Crowd during the start of COVID actually, in the beginning, with Jared- and that's just from looking through social media, on LinkedIn and stuff. I was like, 'Oh, why not give a chance and just reach out to see if he has any opportunities out there.'"
Bamboo Crowd Partner + Director of Design, Jared Tredly, later connected Anna with Lead Consultant, Brian Hartrick, who introduced Anna to some fitting opportunities that matched what she was looking to achieve in the next step of her career. Through several get-to-know-you chats and narrowing in on what role best aligns with Anna's values, Brian knew Thrivent would be a perfect match.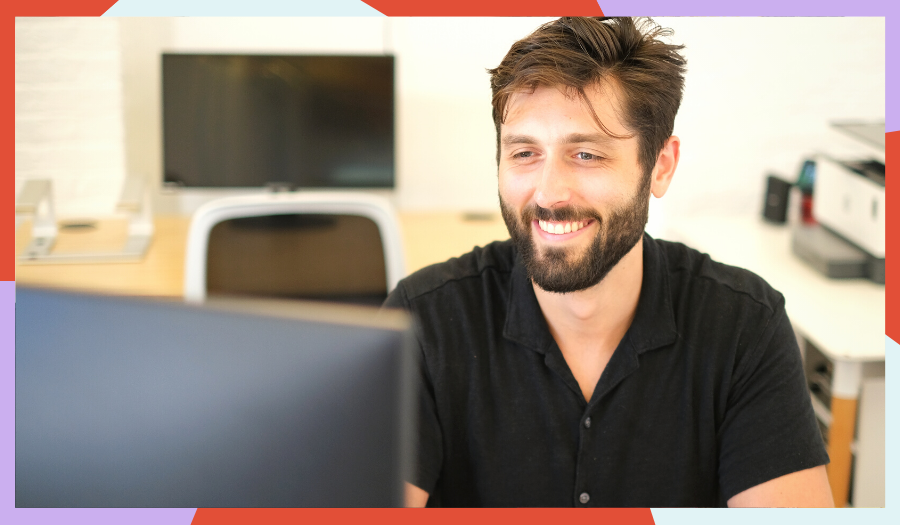 Brian Hartrick, Lead Consultant
"One of the pain points is that sometimes you log onto LinkedIn to look through some job postings. There are so many options out there, there are so many different roles. Then you might go through the cycle of having hope and going down the track of like, "Oh, I'm not good enough.'"
This is where a good recruiter can support. As the hiring market constantly shifts, it's important to have a pulse on what companies are looking for in new hires as well as where designers can produce the best work they're capable of achieving based on their background and goals. Brian guided Anna through the interview process, answering her questions and assuring her she would find that light at the end of the tunnel.
I think Bamboo Crowd is like that supporter, that matchmaker, that makes the process less grueling and more simplified. It felt really 'human-centered,' like I was working with a colleague or a friend, someone that was truly there to support me through the process.

- Anna Chau, Product Designer at Thrivent
We were happy to work alongside Anna as a colleague, here to co-pilot as she embraced what was next in her career journey. If you're ready for your next adventure, be sure to connect with Brian Hartrick for more info about roles with Thrivent and other design opportunities. Looking for something different? Register here to get started with Bamboo Crowd today.